Teatro de Nieve
implausible productions company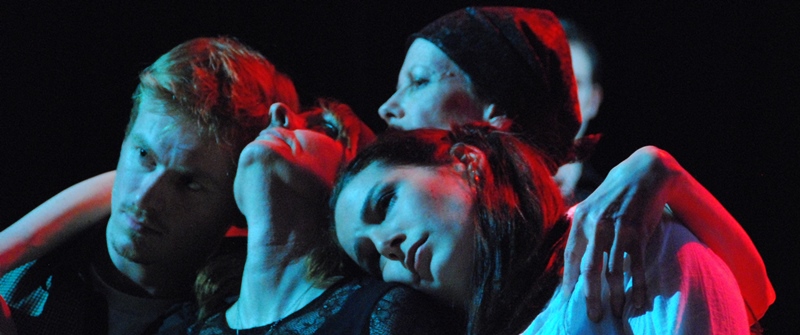 teatro de nieve
Teatro de Nieve is the result of the creative partnership of two of the most talented and versatile artists of the new theatrical wave; composer Sergio Camacho and groundbreaking stage director Luis Ortega. Both original from Spain, both promising writers in their beginnings, their two creative careers diverted from the Spanish creative arts scene to converge years later in the effervescent artistic arena of Newcastle upon Tyne, Sergio Camacho settled as one of the more distinctive voices of a new generation of composers and Luis Ortega combining his double professional career as a countertenor singer and stage director. The Opera 'Three Word Poem About Loss', words and music by Sergio Camacho, was their first common production, which summarized on a stage the overwhelming creative personality of its creators; Camacho's poetic language translated into movement by Ortega. Colour, texture, rhythm, subtlety and passion embroidering notes, lights, voices and dance.
But they also have the qualities that single out success from talent; artistic personality, irresistible determination and the all too rare ability of gathering around them the very best of international artists, starting with the acclaimed tenor and multifaceted artist Mariano Otheguy, and the hundreds of professionals involved in their projects, in the creative and technical teams, actors, singers, dancers and the members of their resident ensembles, Spanish&Latin Folk and Fusion band Luna de Mayo and the Selenia Orchestra.
The best question after a great performance is what will be next. The best answer for that question was and is Teatro de Nieve itself. Camacho's Contemporary Zarzuela 'Beyond the Milestone', Kuala Lumpur revival of 'The Mikado, a COMIC opera', the live score film 'The Equivocal Mirror', a New Music program by the Selenia orchestra, or the show 'Olvido, a Desperate Call for Oblivion', in collaboration with the Luna de Mayo. All of them are offsprings of the unique talent of two names under three words. Teatro de Nieve.